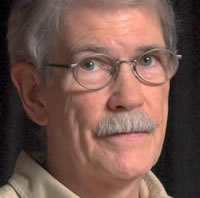 John Warren is an internationally acclaimed composer/ arranger who has been commissioned by the foremost jazz ensembles across Europe. Amongst them are the Danish Radio Big Band; John Surman Octet; WDR Big Band, Cologne; BBC Big Band; Norma Winstone; Alan Skidmore Quintet; Georgie Fame & NDR Big Band; NOS Hilversum, NDR Symphony Orchestra; Karin Krog; Oslo Radio Orchestra; The Dedication Orchestra; &Tim Garland's Northern Underground Jazz Orchestra.
Originally from Montreal, John came to England in the sixties. For thirty years the John Warren Band showcased his music, played by instrumentalists of the stature of Surman, Kenny Wheeler, John Taylor, Skidmore, Julian Arguelles, Dave O'Higgins and Henry Lowther. The band toured Britain and broadcast on BBC Radio and BBC 2 TV. Tours of Germany and Switzerland included recordings for WDR and NDR radio. John composed and recorded "Tales of the Algonquin", a suite for Trio and big band in 1972 which has been released on CD by Vocalion.
The partnership of Surman and Warren culminated in The Brass Project - Surman's trio combined with a seven piece brass ensemble - with both men sharing the composing duties. The band appeared at major festivals throughout Europe and a selection of their music was released by ECM Records in 1992. In 1993 the London Jazz Festival commissioned a 60-minute suite from Warren, which was premiered at the festival and broadcast on BBC Radio 3.
Currently based in York, John is musical director of the Voice of the North Jazz Orchestra, comprised of the best players in the North East of England. As well as performing John's music the band has commissioned works by leading composers. The band has worked with outstanding soloists including John Surman, Bob Mintzer, Andy Sheppard and Tommy Smith. Splinter Group, an eight piece offshoot of the Voice of the North performs music from the CD "Finally Beginning" in concerts around the region. John has composed two extended works for Brass Band and jazz quintet that were commissioned by the Durham Brass Festival and recorded with Mark Nightingale and Steve Waterman as featured soloists. Leading music colleges around the country have invited John to give seminars on his music and direct performances of it with student ensembles.
See also John's MySpace page.