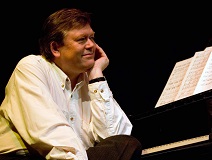 Steve began classical piano lessons at age 9 but began to teach himself jazz at around 11 years old. The first time he actually spoke to what he thought of as 'real' or 'professional' jazz musicians was when he asked the members of the legendary Stan Tracey's quartet to autograph one of their vynyl albums at a gig in Preston in 1976 when he was 17. Without knowing it Steve would meet and work with these musicians; Stan, Art Themen, Bryan Spring and Dave Green later in his career and always learn from the experiences.
Steve Melling studied at Goldsmiths' College in London, joining the National Youth Jazz Orchestra around that time. He began playing professionally In the late 1970s, touring with Harry Beckett and Elton Dean, and in 1986 received the first Pat Smythe Memorial Trust Award, presented to him by the late Ronnie Scott.
In the 80's, Steve played keyboards with Barbara Thompson's Paraphernalia, and in 1987 and 1989 toured the Far East and recorded several albums with the Clark Tracey Quintet notably Stiperstones, a suite commissioned by Leasowes Arts Centre in Shropshire, which Steve and Clark co-wrote. He also worked with Tim Whitehead's band (1988-9), playing on the album 'Decision' which included originals by Steve.
Steve has also worked with a number of American jazz luminaries most notably Elvin Jones' Jazz Machine, Phil Woods and Benny Golson. The 1990s were a very busy time for Steve. He appeared regularly at Ronnie Scott's with his trio and with Alan Skidmore, Claire Martin and Peter King and recorded albums with them. In 1996, Steve recorded his own album 'Trio Duo Solo' for the Ronnie Scott's Jazz House label. Other recordings in this period include 'East To West', and 'After the Rain' with Alan Skidmore and Colin Towns' Mask Symphonic with members of the London Symphony Orchestra.
He was also commissioned at this time by the Appleby Jazz Festival and wrote and directed a set for an 11-piece group. From 1996-98, he was Professor of Jazz Piano at the Royal College of Music.
In 2000 Steve joined The New Couriers, a band formed by Martin Drew and Mornington Lockett and made four albums with them. Some years later Steve played with Georgie Fame at the world-famous Philharmonic Hall in Berlin.
Steve released a selection of his original compositions for solo piano in 2012, on the CD, 'keys to the upper story', following up with a book of transcriptions of these personal interpretations of his own themes.
During 2012 he was invited to play with the European Jazz Ensemble, a band which has featured many outstanding musicians from all over Europe since it's inception in 1976.
Steve is particularity proud to have been one of Stan Tracey's favourite pianists. They played several duet concerts together and Steve deputised for Stan several times including several perfomances of the Under Milkwood suite, which was the album which Stan and his band autographed some 40 years previously.
Steve was commissioned by the National Youth Jazz Orchestra to arrange a piece by Stan Tracey for an album to mark their 50th Anniversary and the album was launched at Ronnie Scott's in early 2016.
His latest album, 'Trace Elements', a duo with saxophonist Art Themen includes a number of inventive original compositions by Steve with set of three pieces entitled 'Trace Elements'. This pays tribute to the fact that when Stan was nearing the end of his long career, he personally suggested that Steve might continue his legacy. These are presented along with works by Thelonious Monk, a piece from a suite by Stan Tracey himself, and an improvisatory piece previously recorded by Stan and John Surman.
"Melling is one of the most comprehensively gifted of pianists, with a great technique and an abundance of ideas. He is also a great composer." - Ian Carr (JAZZ The Rough Guide Vol 2.)
"…the night's modest hero was pianist Steve Melling."
"Melling seemed to read his partners' minds - picking up and amplifying phrases they had barely begun, supplying fresh harmonic invitations in offhand chords, constantly helping maintain the band's busy forward motion." - John Fordham, review of Clark Tracey Re-Union Quintet, Pizza Express, Soho (The Guardian)