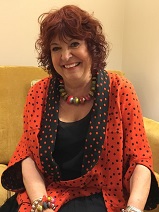 Carol Barratt was born in the Midlands and educated at Ashby-de-la-Zouch Grammar School for Girls. She subsequently trained at the Royal College of Music, London, where she quickly established herself as a composer and pianist, also studying the violin.
After graduating, she was awarded the prestigious Martin Musical Scholarship given by the Philharmonia (the first woman and first composer to be so honoured), enabling her to study composition with Elizabeth Lutyens CBE.
Her concert works include her Magnificat and Nunc Dimittis, Fantasy Preludes & Pattern Preludes, and her song cycles Love… a Strange Disease, and Songs for Singing (see publisher list below).
Carol has also devoted her life to music education and is acknowledged as an award winning leading authority on the subject. She has over 80 publications in print including the renowned Chester Piano Books for Chester Music, and the Bravo! series for Boosey and Hawkes (see publisher list below). Her music has frequently been set for various examination boards including the Associated Board of the Royal Schools of Music (ABRSM).
In 1996 she received the Musical Industries award for the Educational Publication of the Year and in 1998 she was made an Honorary Member of the Royal College of Music. In 2014, as a respite from music, she completed a children's book with illustrations by Wendy Hoile (who contributed to the Chester piano series) titled Idwal: A Tall Tree and some Tall Stories.
She is also a celebrated librettist and has written texts for many works by Sir Karl Jenkins (Stabat Mater, The Peacemakers), to whom she has been married for 40 years. As she often says, "I'm handy and I'm cheap!"
A) CONCERT MUSIC BY CAROL BARRATT
PUBLISHED BY CHESTER MUSIC (Now Music Sales)
'Four Good-Humoured Variations on Ilkley Moor' for 4 Pianos / 8 Players
'Magnificant & Nunc Dimittis' for SSA Choir
'Love……. A strange Disease' for Voice and Piano

PUBLISHED BY BOOSEY & HAWKES

'Fantasy Preludes' for solo piano
'Pattern Preludes' for solo piano
'Prelude and Jig' for oboe & piano
'The Glory of the Garden' Choral Upper Voices: SSA & Piano. Words by R. Kipling
'Six Songs for Singing' for baritone voice & piano
B) EDUCATIONAL MUSIC BY CAROL BARRATT
PUBLISHED BY CHESTER MUSIC (Now Music Sales)
Chester's Easiest Music Piano Series
Classic Piano Course Books 1-3 For older beginners/Adults
The Next Step Piano Course Grade 1 onwards
Tunes You've Always Wanted to Play: Easy Piano Arrangements books 1-2

PUBLISHED BY NOVELLO (Now Music Sales)

'School Daze' Songs and topics for school choirs

PUBLISHED BY BOOSEY & HAWKES

'Bravo!' Instrumental Series: Easy Pieces for Wind, Brass, Percussion, Strings
'At the Piano' A new homage to Bartok for Solo Piano (for Children & Adults
Carol's Music available from Amazon