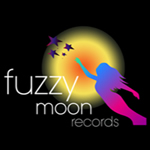 Fuzzy Moon Records was established in June 2008, by London-based composer Issie Barratt, to promote her music and the music of her long standing colleagues from the international jazz scene.
1st album (FUZ001) to be released was Astral Pleasures (01.08.2008), featuring the music of Issie Barratt for a 20-piece ensemble with soloists James Allsopp, Anders Bergcrantz, Mark Lockheart, Mike Outram, Liam Noble, Rowland Sutherland and Steve Waterman.
Then came (FUZ002) the N/octet album, Finally Beginning (01.09.2008), featuring the music of composer and arranger John Warren, performed by Gerard Presencer, Mark Nightingale, Christian Brewer, Stan Sulzmann, Julian Siegel, Jim Hart, Gwilym Simcock, Phil Donkin, James Maddren and Martin Shaw.
Since then the label has gone on to release a further five highly acclaimed albums:
Days Like These (FUZ003): Mark Lockheart with the NDR Bigband and guest drummer Nic France. Released February 2010.

Following On (FUZ004): John Warren's N-Octet Released Released February 2010.

Here's A Song For You (FUZ005): Mike Gibbs with the NDR Bigband feature Norma Winstone. Release date 31st October 2011.

Issie Barratt's Meinrad Iten Suite (FUZ006): featuring the Meinrad Iten Quartet with Issie Barratt, Rowland Sutherland, Mick Foster and Mark Donlon. Release date 31st October 2011.

Kashasha (FUZ007): Mark Donlon, Mick Hutton, Gene Calderazzo and Julian Siegel.Release date 31st October 2011.
For contact information click here.