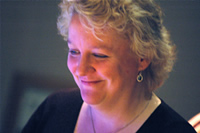 Issie Barratt, founder of Fuzzy Moon Music and Fuzzy Moon Records, is an internationally active composer, arranger, conductor, baritone player, record producer and educator who has performed at a majority of leading concert halls, jazz clubs and festivals in Britain, Germany, Norway, Sweden, Switzerland, south east India and the east coast of Canada. Ranked by BBC Radio 4 2018 Powerlist as one of the most influential women in the music industry, Issie has been awarded commissions by the Philharmonia Orchestra, Delta Sax Quartet, 4th Dimension String Quartet, Voice of the North Big Band, Orchestra of the Age of Enlightenment, Scottish National Jazz Orchestra, Bohuslän Big Band (Sweden), North Cheshire Wind Orchestra, Norwegian Wind Ensemble, Treffpunkt, PRS Foundation for New Music, JCFI-Association (Norway), Swiss Gemeinderat and Burgerkanzlei of Unterägeri (Canton Zug), Vortex Foundation Big Band, Conservatoires UK Big Band, the National Youth Jazz Collective, National Youth Choir of Great Britain, Royal Academy of Music's Big Band, Royal Northern College of Music's String ensemble, Trinity and Leeds Colleges' Contemporary Jazz Ensembles, Youth Music and the South West Music School, with her music often featuring international acclaimed soloists such as Anders Bergcrantz, Gary Burton, Tim Garland, Suranjana Ghosh, Mark Lockheart, Joe Locke, Carl Rütti, Rowland Sutherland, Maggi Olin, Mike Outram, Steve Waterman and Annie Whitehead, frequently sharing the billing with fellow record label composers, Mike Gibbs and John Warren.
Issie directs and composes for her own large ensemble, comprising 21 of Europe's leading jazz artists, with whom she recorded her highly acclaimed debut album "Astral Pleasures" (produced by Mike Gibbs and released by Fuzzy Moon Records in October 2007) as well as performing with and writing for her contemporary quartet, The Meinrad Iten Project, with Rowland Sutherland on flutes, Mick Foster on clarinets and Mark Donlon on piano.
Issie's music has been featured in many festivals and conferences including the Cheltenham Jazz Festival's 2001 Rising Star series, the Leeds International Jazz Conferences 2002-2007, the International Association of Jazz Educators conference 2008 in Toronto, Copenhagen Jazz Festival 2010, Montreux Jazz Festival 2010 and the International Real-time Music Symposium 2011 in Oslo.
Recordings of her compositions include "Show Time" recorded by the Vortex Foundation Big Band on their debut CD Charybdis (2004) "Somehow with the Passage of Time" recorded by Delta Sax Quartet for their album and UK tour 'Dedicated to you but you weren't listening' (2007) "Strange Fruit" for the Bohuslän Big Band's "Letter to Billie" album (2007), "Astral Pleasures": (A full album of original material for own 21 piece ensemble released in 2008) and "Issie Barratt's Meinrad Iten Suite: A quartet's response to 11 paintings" (2011)
In 1999 Issie set up the Jazz Faculty at Trinity College of Music, London, which she headed until 2004, when she was offered the post of Jazz Fellow, allowing her more time for her compositional and performance activities. A much sought after composition teacher, Issie continues to teach composition to undergraduate and post graduate conservatoire students with her students regularly wining awards and prizes, such as the John Dankworth Award in 2009 and 2010 and BASCA's new jazz composition award in 2010. In 2006 Issie became the founder and executive artistic director of the National Youth Jazz Collective. She is also a member of the Jazz and Concert Executive for the British Association of Songwriters, Composers and Authors.
Never afraid to visit the full breadth of the psychological spectrum, Issie's music invariably combines the warmth of an embrace with the full zest of a lemon!
"A great, great composer, who writes beautiful, beautiful music." Julian Joseph: Pianist and broadcaster

"A proper, grown-up jazz composer, like Maria Schneider, Gary McFarland or Mike Gibbs." The Guardian

"Well-regarded by many as being a gifted leader, composer and arranger of large ensembles." Jazzwise
"A remarkable composer, conductor, arranger and baritone sax player." Mo-Jo Magazine
"Without doubt one of the most outstanding writers in the jazz field and beyond." Bebop Spoke Here
"Such beautiful music." Steve Swallow - Bass player and composer
"The orchestration is simply breathtaking and the soloists fill out the picture beautifully." The Observer
"Her amazing breadth of skills – composing, conducting, rehearsing and teaching - are JUST what the music world needs". Mike Gibbs – Composer/arranger
"Highly original writing, not lending itself to helpful comparisons." Jazz Uk
"Fresh writing and commanding conducting skills." The Observer
" Her conducting gives music a whole new meaning: a whole new lease of life." Bohuslän Big Band
" Barratt has complete mastery of the orchestra, and hits all her targets." The Guardian
"You might find the odd echo of Gibbs, the large-scale arrangements of Bob Moses or Jaco Pastorius, hints of the later Gil Evans and Mingus, but these compositions are like nothing else." Jazz Uk
"Her formidable reputation as a jazz writer." Mo-Jo Magazine.
"A hand-picked ensemble." The Observer. "
… stuffed with strong soloists." Jazz Uk.
"The distinctiveness of Barratt as a composer… the empathy of this ensemble for her work." All about jazz
"It's contemporary big band jazz that refuses to lie still and behave itself and that's to be encouraged." Jazzwise Magazine.
"It richly rewards repeated exposure." Vortex
"Its GREAT music" Mark Lockheart: UK saxophonist and composer
"Distinctive and memorable" Leicester Mercury
"I LOVE her writing" Joe Locke: US Vibes player and composer
" It's powerful stuff." The Independent

See also Issie's MySpace page and www.issiebarratt.co.uk