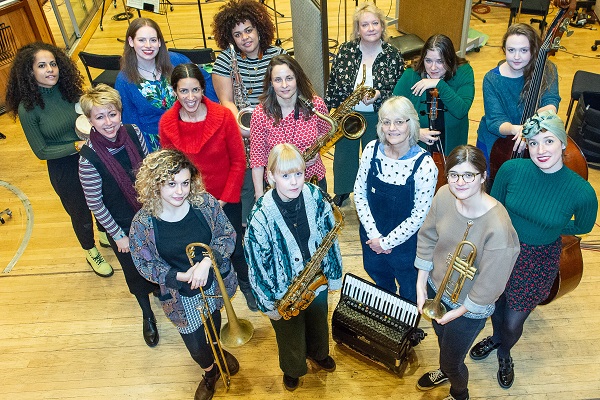 Pushing at the boundaries & blurring all the edges!
A unique and exciting new initiative championing an array of award winning women improvisers and composers, drawn from 200+ members of the UK Women Jazz Collective.
An exhilarating programme of new music, where our richness of diversity takes us way beyond just redressing gender imbalance - Providing a broader, more diverse experience than any audience might typically hear.
INTERCHANGE'S debut album "Donna's Secret", recorded in January 2019, features 14 artists performing 8 newly commissioned works:
Still Here (Karen Street 9:33)


Dedicated to Karen's mother whose ongoing & spontaneous love to dance offers fleeting & unexpected "windows of clarity" amidst her advanced Alzheimer's - showing for a minute or two at least that she is "Still Here"

Donna's Secret (Brigitte Beraha 9:47)


draws on Brigitte's love of novelist Donna Tartt, & their shared dichotomy of creative solitude; juxtaposing a mutual need for periods of creative aloneness with not wanting to be isolated - A dichotomy the two languages acknowledge & play with, often describing the opposite (A cheeky wink to some terrible novel translations!).

Negomi (Nikki Iles 7:40)


-"Imogen" backwards - was the name Kenny Wheeler gave to Nikki's daughter when he first met her. (Typical of Kenny's love of word play). Written amidst terrible reports of child refugees stranded in make-shift Calais camps, the opening portrays the innocence of childhood, before moving into the restless turbulence of families who are fleeing for their lives.

Samla Korna Med Kulning (Issie Barratt 11:20)


depicts the high mountains & deep valleys of the Fennoscandian Peninsula, as women sing their evening herding calls (Kulning) to draw the livestock down from the high pastures, where the herds were grazing all day.

Palmyra (Shirley Smart 11:33)


A suite in 3 parts drawing on Shirley's musical influences (from 10 years living in Jerusalem) while also commemorating the destruction of the Syrian city of Palmyra (2014-15), often evoking the defiant & life-affirming optimistic of so many of the survivors.

Spontaneous Symmetry (Tori Freestone 12:44)


Dedicated to Tori's mother, this piece reflects a fascination with nature's patterns & those whose usual symmetry is often broken, as found in her mother's atrial fibrillation.

Caliban (Cassie Kinoshi 7.51)


A programmatic depiction of Caliban (from Shakespeare's The Tempest) who has fascinated Cassie greatly ever since her time as composer for The Old Vic Theatre's professional development programme 2016-17.

Hope (Carol Jarvis 7.16)


Inspired by a very long battle through cancer, juxtaposing the journey's dark, lonely emotions with optimism & hope.
Additional repertoire transforming the album's programme into a 2-set programme for concerts:
To the Power of Ten - Nikki Yeoh
An Ocean Formed of Stars - Yazz Ahmed